Liferea
Liferea
Of course, not everyone wants to read RSS feeds with the browser. The main problem with reading RSS feeds with Firefox is that you get to see only the headline rather than any actual text. This is where a dedicated RSS reader comes in handy, and Liferea (see Figure 5.11) is one of the best.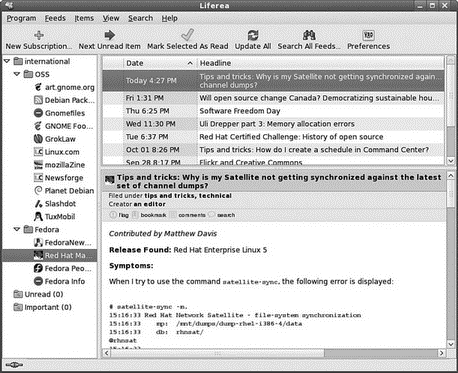 FIGURE 5.11 Read your daily news feeds with Liferea, a fantastic and easy-to-use RSS feed reader.
It is not installed by default, so you have to retrieve it by going to Applications, Add/Remove Software. After it is installed, you can find it under the Applications, Internet menu labeled simply Liferea.
By default, Liferea offers a number of RSS feeds, including Fedora People, Red Hat Magazine, and Fedoranews.org. Adding a new feed is straightforward. All you need to do is select New Subscription under the Feeds menu and paste the URL of the RSS feed into the box. Liferea then retrieves all the current items available through that field, and displays the feed name on the left side for you to select and start reading.